We're Partnering with Heide Museum of Modern Art!
tag__Gardening
June 16, 2023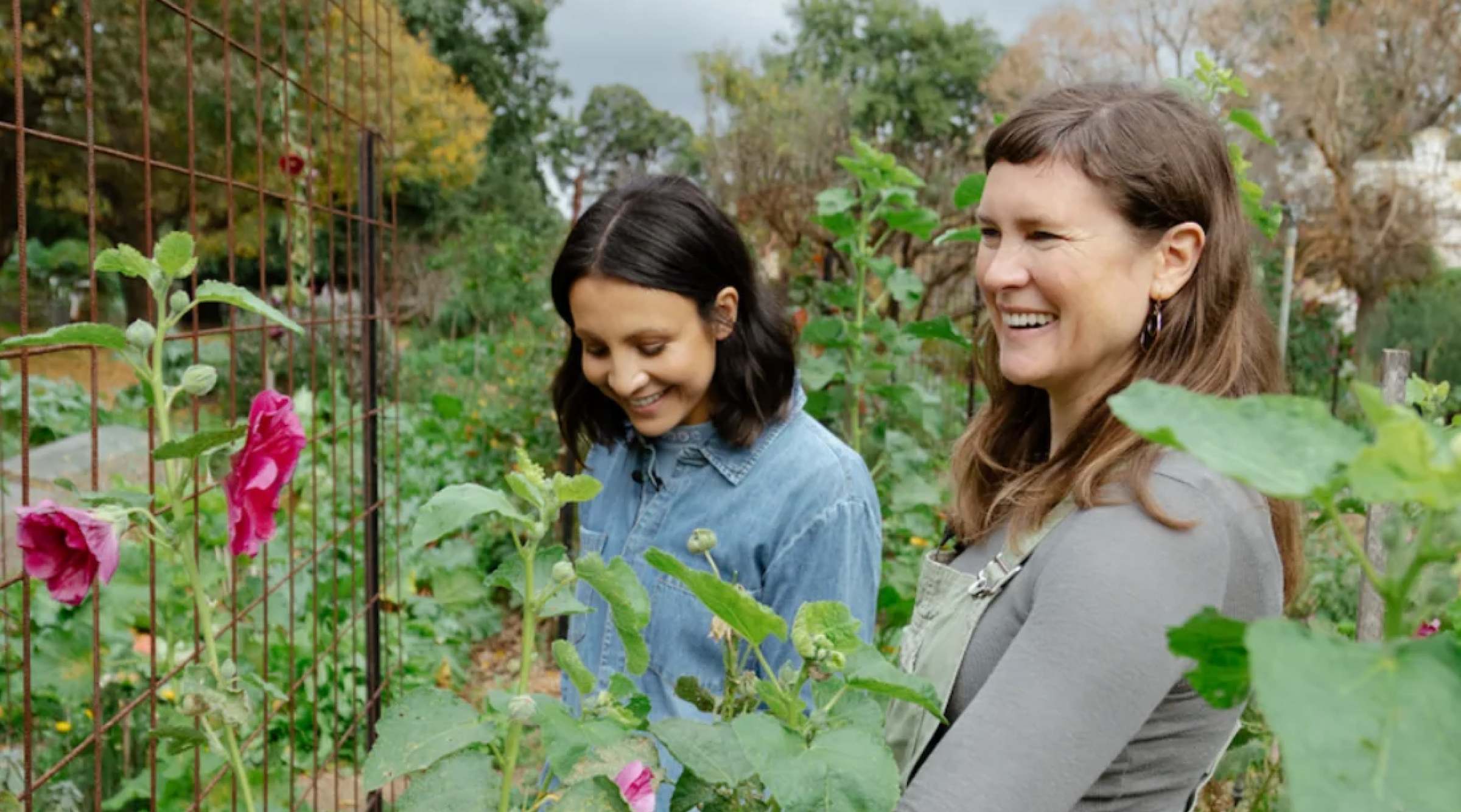 This year, we are very excited to share that Merry People has become the first ever garden partner of the Melbourne-based art museum and sculpture park, Heide Museum of Modern Art.
---

Through their gardens, Heide has created a space that is joyful and peaceful - connecting people with nature. Heide has a multitude of gardens and spaces where art, nature and culture is celebrated. The diverse gardens are open to the public year round, incorporating heritage listed kitchen gardens, an apple and pear orchard, a healing garden, the renowned sculpture park and Yaluk Langa, an indigenous environment on the edge of the Birrarung/Yarra River.
To find out more about how this partnership came about, and what our Merry Community can expect, we interviewed the team at Heide, and our CEO & Founder Dani Pearce!


Heide, tell us! How did this partnership come to be?
Merry People joining us as our first ever garden partner is a personal and important partnership for both our brands, as it came about through the relationship between Dani, Merry People's founder and CEO, and Alice, our Heide Kitchen Gardener - who are cousins! 
Dani and Alice have both pursued their passions in different ways to create things that are both beautiful and useful; Merry People boots and the magical gardens at Heide!  


What inspired you to partner with Heide, Dani?
This merry partnership with Heide Museum felt very organic – it just clicked! It has always been important to me to give back to our Merry Community - it has been this community who has supported my gumboot journey, from my market days, to now. One of the ways I want to give back is by supporting the arts. I believe the arts are an important part of culture and Heide has brought this to life by creating a space that connects visitors with the magic of handmade and nature's art.  
Seasonality plays a huge part in a garden! What do the Heide gardens have to offer in each of the seasons?
There's so much happening each season at Heide! Heide's Kitchen Gardener, Alice, shares some of the best parts of each season with us…
AUTUMN
The changing colours throughout the Heide gardens makes autumn a visually beautiful time to visit. According to the gardening team, some of the best autumn colour in the gardens can be found on trees such as Hawthorns, Persian witch hazels, Oaks, and of course on the iconic silver vein creeper which adorns Heide Modern's high courtyard walls. The creeper turns a deep crimson before dropping its leaves which contrasts beautifully with the creamy limestone walls. Definitely a must-see when visiting Heide at this time of year.


WINTER
The Heide gardens in winter provide the perfect excuse to rug up, slip on your favourite pair of Merry People boots and start exploring! As all green thumbs know, winter is a time when plants tend to slow down, or even go dormant, and flowers become a rare sight. However, there are a few plants in Heide's gardens which put on a spectacular display in the middle of winter! See flowers such as jonquils, winter sweet (which smell divine!), European spindle and of course the ever-popular camellia. The Heide gardening team are kept busy pruning plants such as roses, buddleias, hydrangeas and lemon verbena in winter, as well as tending to the trees in the apple and pear orchard in front of the Heide Cottage in preparation for spring. 
SPRING
The healing garden at Heide is a favourite spot to visit in spring. Inspired by Heide co-founder Sunday Reed's profound love for her garden and designed by leading landscape architecture and urban design studio Openwork, the healing garden draws on the curative properties of plants and the ever-growing body of knowledge that positions gardens as a powerful tool for connecting communities, reducing social isolation and providing positive, life-affirming experiences. Perfect for a moment of rest and reflection.
Spring is also when many of Sunday's iconic roses are in bloom, these provide a feast for the eyes and the senses! Fun fact: after 80 years of rose cultivation at Heide, around 150 of Sunday's original 250 bushes remain.


SUMMER
The long days in summer make it the ideal time for relaxing in the Heide gardens and enjoying the sights and sounds that nature has to offer. The grounds are often full of people picnicking from morning through to evening. In both spring and summer the kitchen gardens are full of stunning flowers, many of which are edible and are used as garnishes for dishes in the Heide Kitchen. The extra tall sunflowers found in the Heide Modern kitchen garden are another summer highlight! 
A visit to Yaluk Langa along the Birrarung/Yarra river is also a must in summer. A collaborative indigenous garden project developed between Wurundjeri Traditional Owners and the Heide team, Yaluk Langa ('River's Edge' in Woiwurrung language) provides opportunities for Wurundjeri Woiwurrung people to achieve their responsibilities in caring for Country, what is known as Bunjil's Law, and to highlight their living culture. 
Dani, what's your favourite spot in Heide's gardens?
I love the veggie garden! It reminds me of the one at my parents' home – a big working veggie garden that was well-loved and well-used! The kitchen gardens, with their abundance of fresh produce, vibrant colours and fragrant fresh produce smells, made me feel like I was at home again.


---
QUICK FIRE
Now for a quick fire round of questions, answered by Dave Murphy, Heide's Head Gardener!
Favourite aspects of the Heide Gardens in winter
Winter is the time to prune things back in the garden, some plants get cut down to the ground. In some ways it's like taking the garden down to its bare bones so you can see the structure of it. It gives you an opportunity to "see" the garden and whether it is in line with your vision for it. This time of cutting back is necessary for the growth and renewal of spring. I also like the morning light in winter, the sun is low and the light does interesting things. I take my best garden pics in winter.


Best advice you can give a gardening novice?
Buy the best pair of secateurs you can afford.


You've chosen Oxford Blue Bobbis, but what would your second Bobbi Boot colour be? 
Magenta. I quite like the idea of chainsawing large tree branches at Heide with my pretty pink boots on!


If you could only take one variety of flora to a desert island, which would it be and why? 
The plant I'd take to a desert island is the rosea ice plant. I'm currently obsessed with it! It is a low succulent ground cover which has a party trick in spring, it produces these pink daisy-like flowers except it is completely covered in them, just a carpet of pink flowers.
Looking ahead, what can our Merry Community expect from this partnership?
As Heide's official garden partner, we're able to support Heide's joyful spaces, as well as spread merriness to the gardening team, the visitors (and their dogs!) who stop by to take in the Museum and its gardens.
Over the next few months we will be sharing more of what our partnership entails for both Heide's visitors and our Merry Community! There's plenty to come, and we can't wait to share it with you.
Subscribe to our mailing list so that you're the first to hear about what's next…