Motherland: A Strong & Merry Community for Rural Mums in Australia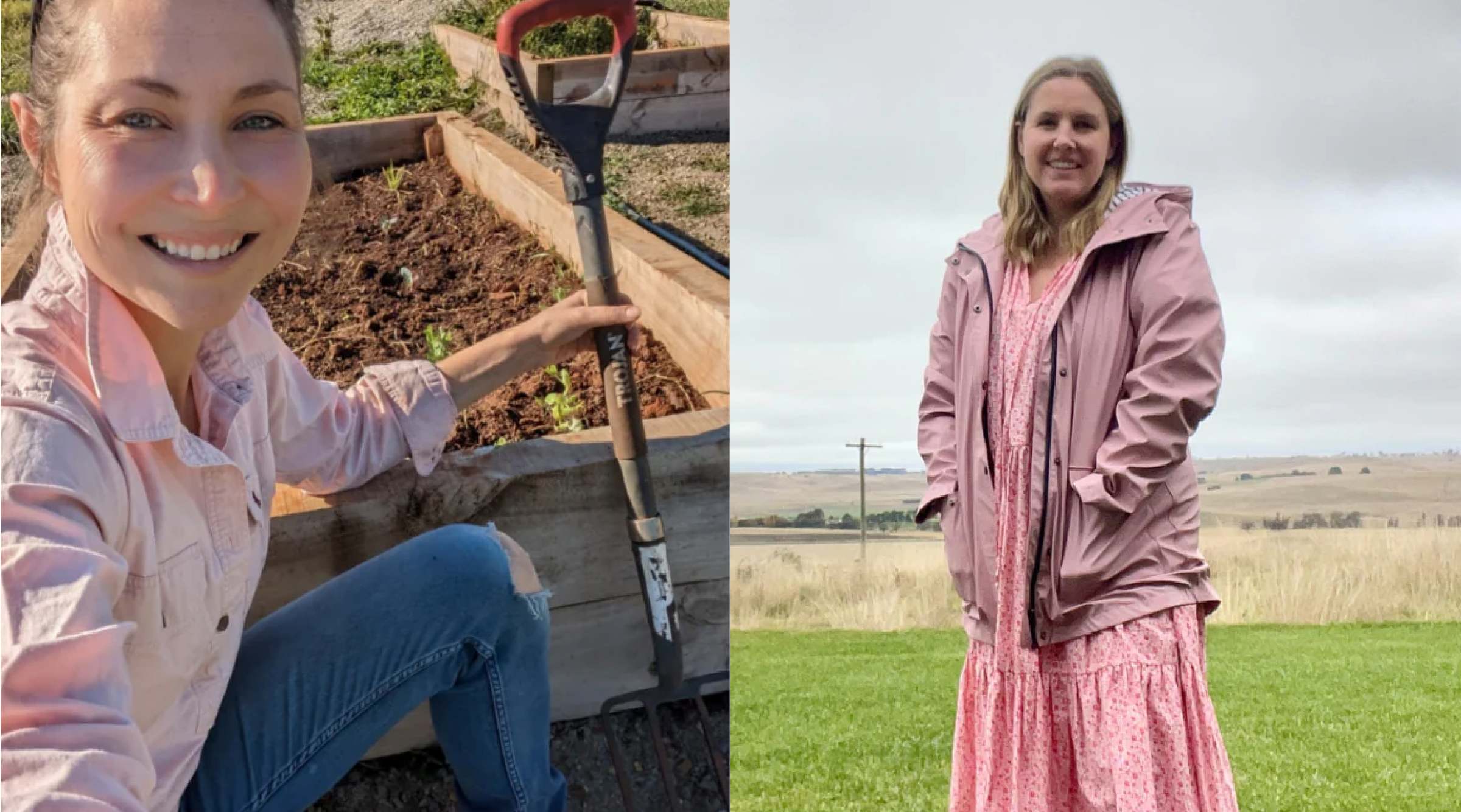 Get ready to hear from three amazing women at Motherland, an Australian organisation that supports rural mothers, who have partnered with Merry People this May. We'll be hearing from Steph, the CEO and Founder of Motherland, Alice, who initially joined the Motherland community and is now the Queensland Ambassador, and Kate, who also began as part of the community and now serves as the New South Wales Ambassador. 
Founder Steph in her Dusty Pink Bobbi Boots with her daughter Evie

What Motherland Is All About
Motherland was created by Stephanie Trethewey after her own struggles dealing with crippling isolation and a lack of support as a rural mum.
Steph created Motherland to celebrate and connect rural mums around the country by providing a platform and online community dedicated to supporting them and improving their emotional wellbeing.
Steph was named the AgriFutures Rural Women's Award National Winner for her idea to create Australia's first online rural mother's group program, Motherland Village. Motherland Village is an online program that connects rural mothers with children aged 0-18 years old to their own personalised support group. Over 160 mothers have joined 18 virtual villages in just 18 months.
Through the Motherland Podcast, Book, Village program, and soon, Events, Motherland is making an incredible difference to the lives of rural mothers across the country. 
Why did you want to partner with Merry People?

Partnering with Merry People was a no-brainer. We love that Dani grew up on a farm in Gippsland Victoria, and so knows what it's like to be in our shoes (or should we say boots!). She's also a mum, and understands that huge transitional journey too.

Dani's merry gumboots help women, men and their kids to feel comfortable and stylish too, through practical farm appropriate footwear that can also be used on a daily basis in the bush. We have loved Merry People's support over the last 12 months and can't wait to work with them more in the coming years!
Steph: CEO and Founder of Motherland 
What's your role at Motherland? How does your role bring you joy?
I'm the CEO and Founder of Motherland. I have a four year old son and a two year old daughter, and Motherland is my third baby! I've put my heart and soul into this organisation which has been my village since I moved to rural Tasmania three and a half years ago with no family or friends nearby to support me.
I have found my people and some of my closest friends through Motherland and I don't know where I'd be without them, they've been my lifeline. I even joined the first Motherland Village group when I trialled the program because I realised I'd created something I desperately needed myself, a mother's group. We've been through incredible highs and lows together supporting each other along the way.
How do you like to style your Bobbi Boots? 
I love to wear my Bobbi Boots in situations that vary from one extreme to the other! I wear them with my farm gear when I'm popping into town to pick my kids up, or to nip to the shops to do some shopping. But they're also perfect to wear with a dress or shorts on warmer days and for something a little dressier!

Steph's daughter Evie trying on her
Dusty Pink Bobbi Boots
!
What's the most recent activity you've really enjoyed? 
Finding time for hobbies right now is quite tricky given life is so full and crazy with my little ones. But I really love walking - I walk around our farm with my kids, I walk alone when I can with my favourite podcast in my ears. Being outside and getting out of the house and away from my desk is really important for my mental health and I try to get out and about even if the weather is a little gloomy and wet!
Alice: Queensland Ambassador of Motherland
What's your role at Motherland? How does your role bring you joy?
I joined the Motherland Village program myself, after finding myself feeling very lonely and isolated when my second son was only a couple of months old. The group of mums in my group are now some of my closest girlfriends, and we communicate daily, nearly 18 months on. I felt such a need to pay it forward to other mums, and to Motherland, so when the role of Motherland Ambassador came up, I jumped at the chance.
Being the Queensland Ambassador, I assist in promoting awareness for Motherland, both in Queensland and nation-wide, as well as facilitating other online mothers groups and fundraising. I am hosting Motherland's first ever event in May in Goondiwindi, a lovely afternoon tea to celebrate and connect rural mums - something that I think is just so important living on the land.


What do you like to do in your Bobbi Boots? 
My Bobbi Boots are by my front door, so they are worn for nearly any task! Numerous trips to the chookyard each day to collect the eggs with my boys, ducking out to the clothesline, gardening and pushbike rides to the mailbox with the kids. They are my go-to shoes for a quick trip to town, and the kindy pickups. While I try and wear my steel-capped leather boots around the farm, I have also been known to wear my Merry People boots too, although they always need a good clean after that!
What's the most recent activity you've really enjoyed? 
I am a huge gardener, and I love nothing more than pottering in the garden while the kids entertain themselves on the trampoline or swings beside me. I recently discovered propagating my own plants at home, when building a new garden bed after having my second son. I love that I can walk around my garden now and remember where each plant came from. I have a lovely covered vegetable garden that doubles as my greenhouse for newly propagated plants, which is currently way overstocked and needs planting out!
Kate: New South Wales Ambassador & Community Coordinator
What's your role at Motherland? How does your role bring you joy?
I found Motherland at a time when I needed support, my second daughter was born premature in the middle of the 2019/20 bushfires just before COVID struck and my support systems were all cut off from me. 
I volunteered for the first Motherland Village trial group because I could see what I was missing. Having had such a transformational experience from that trial, I wanted to give back to other mums facing social isolation on the land, so offered to help Steph while I was on Maternity leave with my third daughter. 
That was just over a year ago now and it has been an incredible ride! I support Steph with everything from podcast sponsorship to reviewing Motherland Village to continue to grow and enhance the program. But what brings me the most joy is facilitating the Motherland Village groups. I get such a buzz from connecting rural women all living completely different lives all over Australia but with so much in common. 
These groups are so supportive of one another and when I can see that what we've created is making a real long term impact to their happiness raising kids on the land, that brings me more joy than you can imagine.
How do you like to style your Bobbi Boots? 
Gumboots are a non-negotiable for me in Snowy Mountain Country. We farm on the Monaro, South East New South Wales, and boy, does it get soggy and freezing - it usually snows a couple of times a year at home. 
What I love about my Bobbi Boots is that they go with everything and in every circumstance. From helping my husband, John in the yards, to dropping the girls off at school, preschool and daycare, to grabbing some veggies for dinner from the garden, to letting the chooks and ducks out on a rainy day, they are my day-to-day go-to boots. 
Around here we have lots of fun social events too; the Bombala Show is a huge family day and we have garden days to raise money for local causes too - my Bobbi Boots are perfect for these events - thrown on with a flowy floral dress, I can't go wrong!
What's the most recent activity you've really enjoyed? 
On the weekend I joined my first Aboriginal Art Class hosted by a local First Nations artist. It was beautiful to hear her family history and why art and her culture are so important. While I'm no artist, it was deeply relaxing to focus on learning a new skill from an expert. I now have a deep appreciation for how complicated the techniques are in Aboriginal art and am looking forward to continuing that learning with more classes in the future.

--
To learn more about Motherland and to find out more about how to enrol in Motherland Village, check out their website here. Thank you to Steph, Alice and Kate for sharing your styling tips, joys and current merry curiosities!