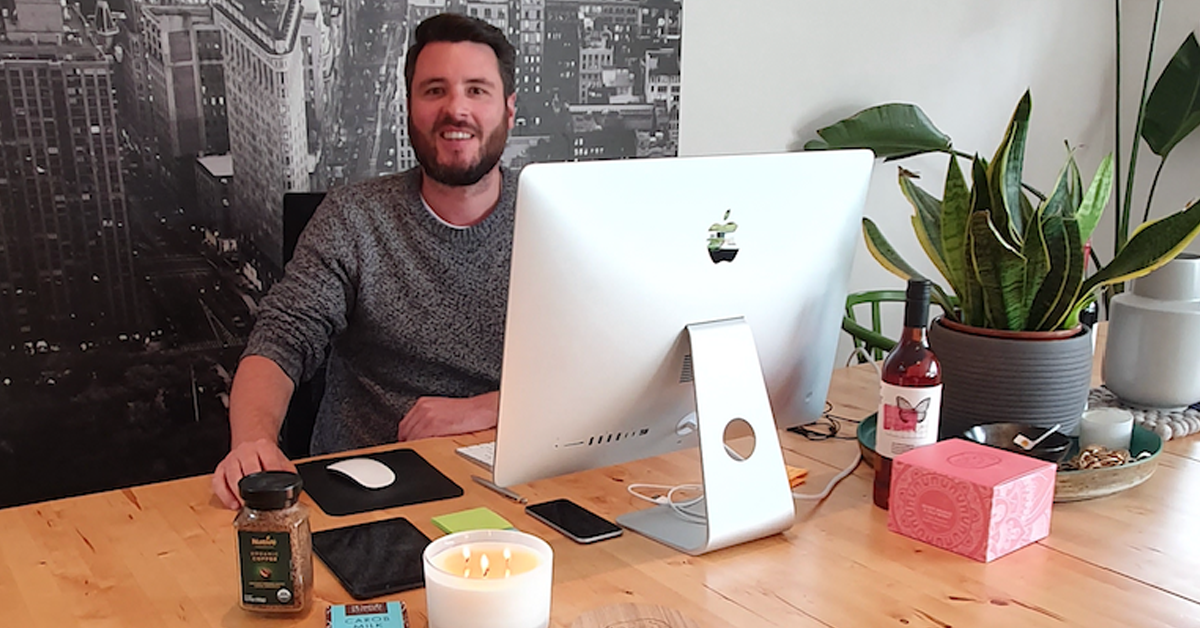 Meet the Merry Team - the WFH Edition
We are now heading into week twelve of working from home! To commemorate this time, we have asked our team for a bit of "then and now", going behind the scenes into their working from home experience. 
We have also updated our original blog post with our collective tips and suggestions for working from home, sharing some of the things we have learned over this period and done to stay connected and merry.  
Emma, Marketing Manager
First impressions of working from home? 
I've missed my train ride as a time to prepare for the day and unwind after work. So, I replaced my commute with a walk in the morning and evening. I'll often send photos of nice things I've seen to our group message. 
Over the past 12 weeks, how have you adapted to working from home? 
Dani's physio housemate Shiv had a look at our work from home set up during our weekly Zoom call. After his advice on ergonomic seating, I now have my office chair at my home desk and bought a gym ball for the spare room where I go for calls.
Dani, CEO + Founder
What does your working from home set up look like? 
I am set up in our study, my desk facing the window. Currently, I have a salt lamp, a candle, a bunch of receipts I need to send to the bookkeeper, and an A4 Merry People painting one of my good friends Richard made for me on my birthday last year.
Over the past 12 weeks, how have you adapted to working from home? 
I have been sleeping longer, doing a workout every morning and starting work later than normal. I have been enjoying making hot lunches, having an afternoon chai and going for walks after work/getting to know my neighborhood.  I have really adapted and enjoyed working from home and spending more time with my partner. I know it is not the best thing for our team collaboratively, but I think it has its benefits and I am proud of how resilient the team has been throughout this period, despite so much initial uncertainty. It has actually made me rethink how we will continue to work once we are out of COVID lockdown.
Tim, Operations Manager
First impressions of working from home? 
The morning commute up the stairs is a breeze! The quiet time helps with focus but easy access to the fridge is a test of restraint. 
How are you staying Merry right now?
Spending time with my girlfriend, finding new virtual ways to connect to friends and family, and spending time with the people in my bubble. I like watching my favorite musicians get creative with streaming events, plus my housemate is a DJ so some funky beats help keep the vibe Merry.
Katey, Wholesale + Marketing 
What does your working from home set up look like? 
My partner is an essential worker, so it's just me and my two cats, Simon and Oscar (@simo.and.grouch) all day!  I converted our spare bedroom into an office, but switch it up between there and the kitchen table where there is more natural light. 
How are you staying Merry right now?
Twice a week, I've been going on long, socially distant walks with a friend and we have used that time as an excuse to taste test all the local bakeries. So far, the standout has been Lune's Macca Sacca.  I was also inspired by the interview with Alice and bought some new houseplants to make my space merrier and a bit more fresh. 
Elgie, Customer Service
How long have you been working at Merry People & Where are you located?
I've been working remotely with Merry People since May of 2018. I am in the Philippines, in the Province of Negros Oriental which is part of the Visayas. 
Who are you self isolating with at the moment?
My husband and I have always put the family first in everything we do! So we are isolating with the people we love most -- our kids! My husband's parents and sister with her two kids also joined us which made isolating more fun! 
What has been a highlight for you working at Merry People? 
Among major highlights that I have with Merry People was meeting Dani and the team in person back in December 2019 when I had my first international trip to Australia and celebrated the Christmas Party with them!
 Stay Merry everyone!!