How to Style Mid-Calf Boots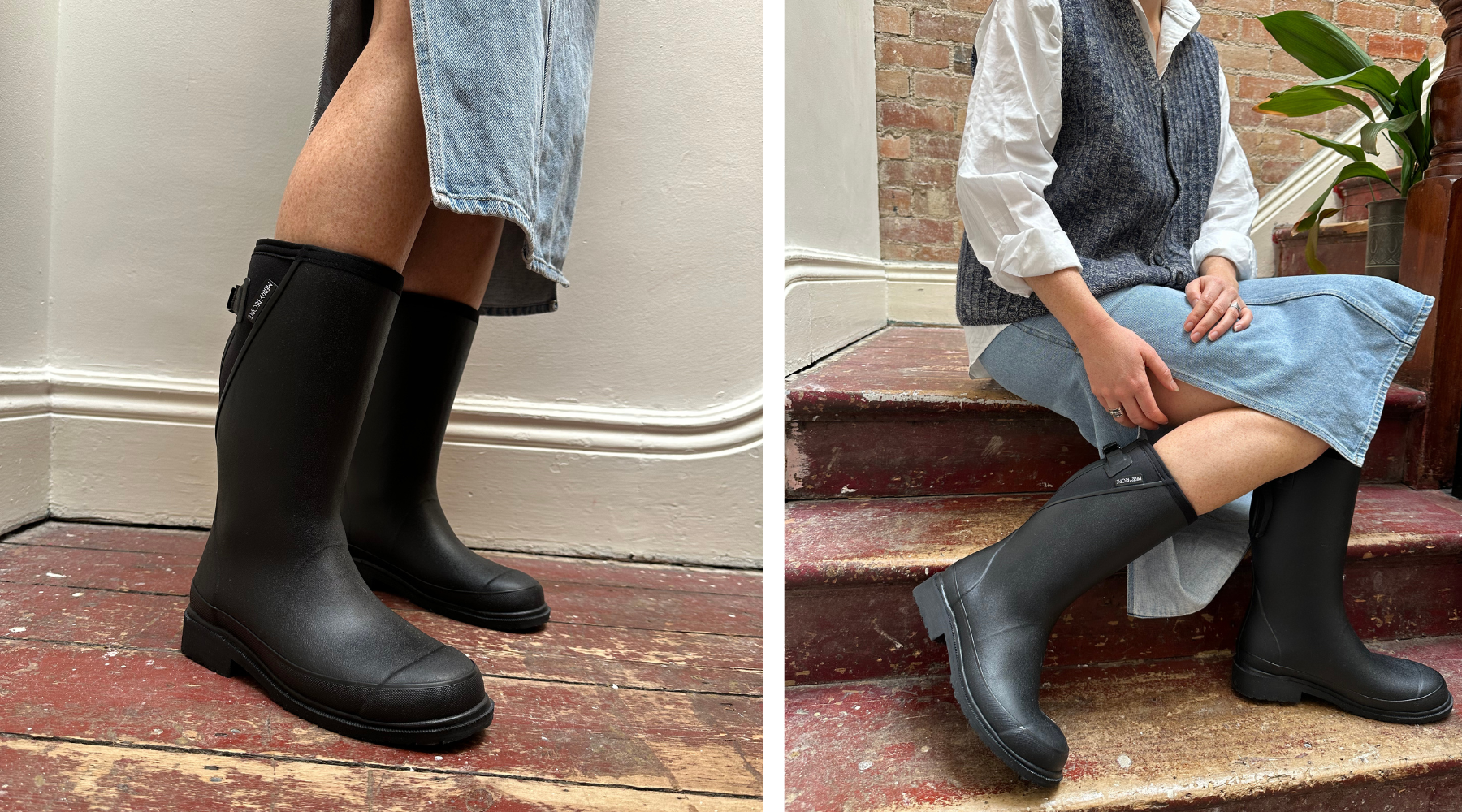 How to Style Mid-Calf Boots

Mid-calf gumboots are making a comeback in the fashion world. We are finding innovative and intuitive ways to incorporate your favourite gumboots in both high-fashion and casual ways. Your mid-calf boots are made for more than puddle-jumping!

In this article, we'll give you current tips for pairing your cute mid-calf gumboots with items already in your wardrobe. That's right – this even includes how to wear mid-calf boots with jeans so you can go from the garden, straight to the party – in the same boots!
Ideas for Styling Mid-Calf Boots

When the seasons change, we're all familiar with getting caught in sudden downpours when the forecast says clear skies.

Mid-calf gumboots are as functional as they are fashionable. We love them for when seasons are in transition, especially our Darcy Mid-Calf Boot. These boots are breathable, waterproof, and completely vegan. Here are our top ways to style these boots:

Cosy and Cute With a Chunky Sweater

If you're struggling with how to dress in that awkward between-seasons time, don't tuck your chunky sweaters away just yet. An oversized, chunky-knit sweater with leggings and mid-calf boots are a fresh take on this classic style.

In the 2010s, the chunky sweater was paired with either thigh-high boots or ankle boots and leggings. As we've stepped into the 2020s, mid-calf boots are having their moment once again. All you need to do is swap out those ankle or thigh-highs for a mid-calf boot and you have a cosy staple outfit for all seasons.
Dress Up and Dress Down

Looking to add a rebellious, unexpected edge to your favourite little black dress? Our Darcy Gumboot comes in black, perfect to pair with a flowing or lacy black dress. This is a perfect way to add a playful element to a dark, yet whimsical ensemble. The monochromatic choice of all-black is classic!
Make a Statement With a Statement Piece

Gumboots are a bold choice on their own, but complement bolder pieces, as well. Remember that patterned and colourful trench coat or raincoat you have–the one you swore you'd wear but struggle to find pieces that work with it? Throw that on with simple black leggings and your mid-calf gumboot of choice.

This pairing not only looks chic and daring, but keeps you protected and dry–whether you're running errands or meeting friends for dinner downtown.
Midi Dress Moment!

If you haven't invested in a midi dress yet, now is the time. These dresses are as versatile as our beloved gumboots, being long enough to wear to any occasion but short enough to showcase your favourite boots.

Because midi dresses can go from work to play, we recommend neutral tones for professional settings, and bold colours or fun patterns for parties or other fun events. Is it drizzling? No need to raincheck – throw your favourite trench coat over the dress to complete the look.
Your Style, Your Way

Mid-calf boots are back and your feet will thank you once you slip on our Darcy Mid-Calf Gumboots. The Darcy has cushioned arch support, a sleek and unique style, and all the protection from the elements you need.

There's no wrong way to style your mid-calf boots, but a little inspiration never hurts. Whether you're channelling your grunge-princess vibes by pairing them with a LBD or looking for something easy and cute to slip on with your favourite jeans, mid-calf boots are an essential. For our Darcy Boot and more closet-staples, check out Merry People boots!